Get a head start with the fastest verified data of critical events
Discover emerging and high-risk events ahead of major media reports. Powered by a hybrid of AI and experienced journalists, Factal detects early signals, filters out the noise and verifies the facts at the speed of social media.
Respond faster and reduce costs with real-time automation
While social media sources splinter, Factal's platform brings it all together. Get alerted to what matters across a diverse array of sources. You make quicker decisions, save countless hours and free your team to do more impactful work. Learn more.
Securely chat with other companies in proximity to the same incident
In a first for the private sector, organizations in proximity to the same incident – like an incoming hurricane or wildfire – can securely share information with each other in real time. You can also ask our editors questions around the clock. Welcome to the new era of collaborative resilience. Learn more.
Shield your company, people and brand from emerging threats
Get the widest, most holistic view of risk and threat intelligence on the market. From physical incidents and brand mentions to geopolitical developments and cybersecurity threats, Factal has you covered in a single integrated platform.
See precisely where your company is at risk with True Impact™
Factal's proximity technology notifies you instantly whenever a breaking news event will likely impact your company's locations. From 50 regional locations to 50,000 global assets, see a clear operational picture of how you're impacted.
Get the app that security, crisis and resilience leaders are raving about
Factal's blazing-fast breaking news app is a staple in the industry. Keep tabs on what's impacting your company right now, then see what's happening near your own location as you travel.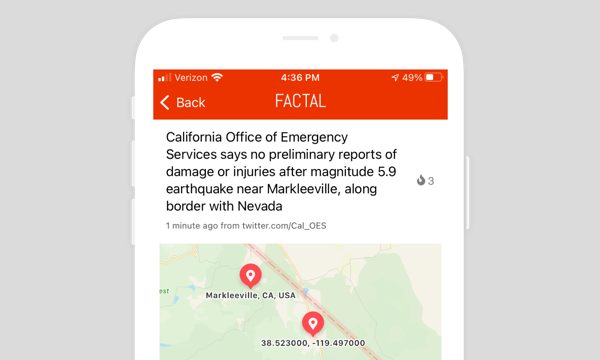 Integrate with Factal's powerful API
Factal is there where you need it, on any pane of glass. Connect with our wide range of innovative partners with ready-to-go integrations. Or developers can tap into Factal's API to spin up custom applications and visualizations.