Get a head start with the fastest verified data of critical events
Discover emerging and high-risk events ahead of major media reports. Powered by a hybrid of AI and experienced journalists, Factal detects early signals, filters out the noise and verifies the facts at the speed of social media.
Respond faster and reduce costs with real-time automation
While social media sources splinter, Factal's platform brings it all together. Get alerted to what matters across a diverse array of sources. You make quicker decisions, save countless hours and free your team to do more impactful work. Learn more.
See precisely where your company is at risk with True Impact™
Factal's proximity technology notifies you instantly whenever a breaking news event will likely impact your company's locations. From 50 regional locations to 50,000 global assets, see a clear operational picture of how you're impacted.
Anticipate emerging global threats and near-future disruptions
A powerful machine learning tool, Factal's First Sight forecasts the likelihood of future disruption in the world's largest metro areas and supply chain hubs. Take horizon scanning to a new level and mitigate risks before they impact your business.
Securely chat with Factal editors and members around the clock
Have a question or a tip? Anonymously connect with Factal editors and our members 24 hours a day in a secure chat, tapping the largest real-time network of security, crisis and safety professionals around the world.
Get the app that security, crisis and resilience leaders are raving about
Factal's blazing-fast breaking news app is a staple in the industry. Keep tabs on what's impacting your company right now, then see what's happening near your own location as you travel.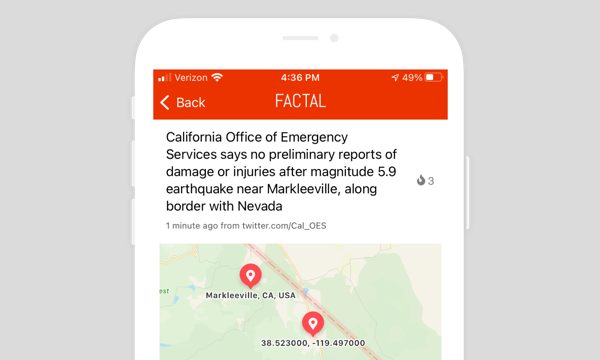 Integrate with Factal's powerful API
Factal is there where you need it, on any pane of glass. Connect with our wide range of innovative partners with ready-to-go integrations. Or developers can tap into Factal's API to spin up custom applications and visualizations.