Rise above the noise with the fastest verified data of critical events
Factal is the only company that combines trusted verification with real-time event detection in a single platform. Powered by a hybrid of AI and experienced journalists, Factal filters out the noise and verifies the facts at the speed of social media.
Respond faster and reduce costs with real-time automation
Factal's platform condenses and verifies a global universe of open data, alerting your team to just the incidents that matter to your company. You make quicker decisions, save countless hours and free your team to do more impactful work.
See precisely where your company is at risk with True Impact™
Factal's proximity technology notifies you instantly whenever a breaking news event will likely impact your company's locations. From 50 regional locations to 50,000 global assets, see a clear operational picture of how you're impacted.
Securely chat with Factal editors and members around the clock
Have a question or a tip? Anonymously connect with Factal editors and our members 24 hours a day in a secure chat, tapping the largest real-time network of security, crisis and safety professionals around the world.
Get the best breaking news mobile app out there
The Factal iOS and Android app is a blazing-fast breaking news app that keeps the entire team in the loop. Keep tabs on what's impacting your company right now, then see what's happening near your own location as you travel.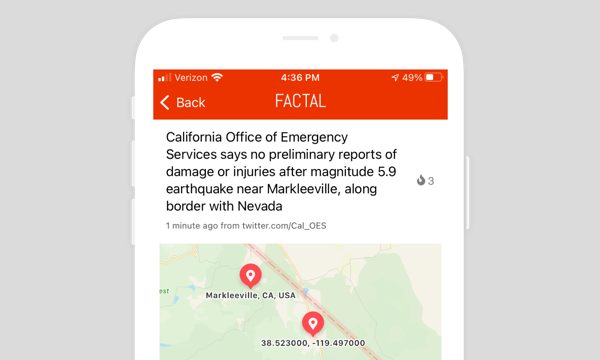 Integrate with Factal's powerful API
Factal is there where you need it, on any pane of glass. Connect with our wide range of innovative partners with ready-to-go integrations. Or developers can tap into Factal's API to spin up custom applications and visualizations.